Anmeldelse: A-frame Stand Forest Green
På Datalife.dk har vi gennemgået TV-standeren A-frame fra danske Pedestal. Herunder deler vi vores oplevelse med produktet.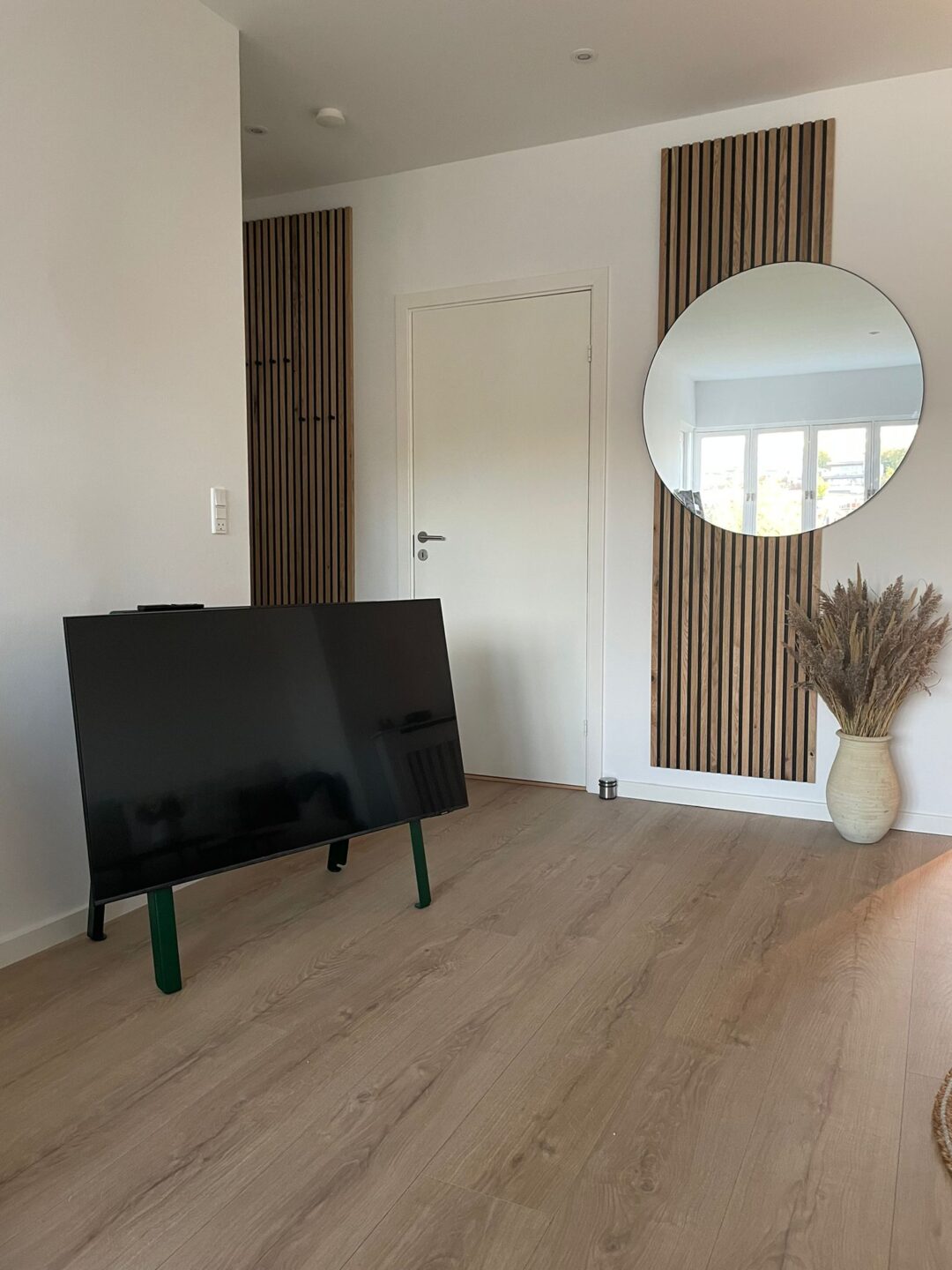 Når dit TV bliver til mere end bare et TV
Iøjnefaldende og elegant er to ord der beskriver det danske Pedestal-design A-frame ganske godt. Designet har kant, der tilfører TV'et en ny dimension af et møbel, der udstråler eksklusivitet og karakter.
Vi kommer omkring følgende 6 områder; om produktet, design, er produktet nemt at samle, pris, vores personlige anbefaling og en række billeder til sidst.
Om produktet
A-frame er et rigtig nydeligt produkt, der kan give ethvert rum et ekstra løft. Det er en god og anderledes måde at hænge sit TV op på, samtidig med det giver noget fleksibilitet til hvordan man ønsker sit TV står i det enkelte rum.
Det er nemt at dreje rammen, hvis man f.eks. ønsker at TV'et skal stå i en ny retning, ligeledes kan det faktisk give en fornemmelse af at rummet har mere dybde, da stativet er meget let æstetisk og ikke nødvendigvis (og faktisk helst ikke) står bedst når det ikke er klistret op ad væggen.
På vores billeder nederst, har vi valgt at montere et Samsung QLED TV, eftersom det var vigtigt for os at finde et TV, der harmonerede lidt med det lette design fra Pedestal. Alt afhængig af hvad man prioriterer, erfarer vi at Samsung er førende på æstetik, hvilket har været en vigtig præference i dette tilfælde. Som udgangspunkt kan vi understrege, at når du skal vælge TV til din A-frame, så gå med et TV der er tyndt, da det fuldender den totale oplevelse med det flotte TV-stativ Pedestal har produceret.
I vores tilfælde har vi valgt at montere et 50 tommer TV, da rummet ikke kan bære større. Standeren understøtter alt mellem 40 til 70 tommer og er kompatibel med Samsung, LG, Phillips, Sony, Prosonic etc.
Indlæggets TV er dette – find den bedste pris herunder: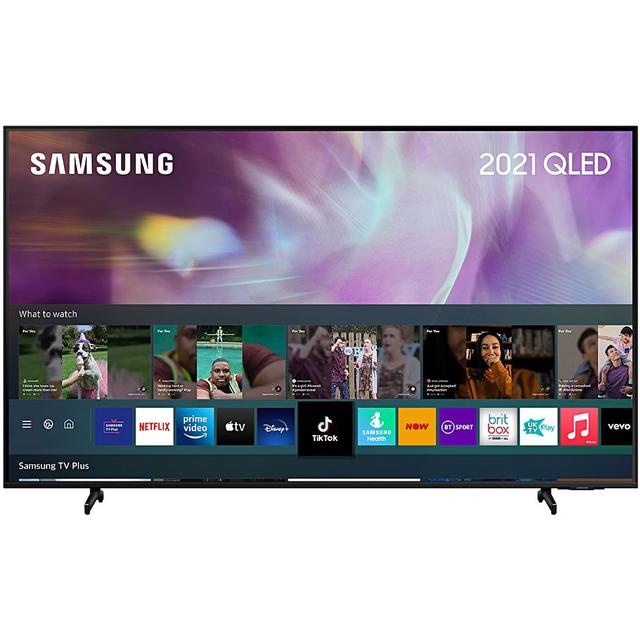 Design
Designmæssig kan vi som dansker være stolte, for det er især her produktet efter vores mening scorer topkarakter. Der er tænkt over tingene.
En ting ud af mange som er værd at fremhæve, er den måde Pedestal har formået at selv de mindste detaljer på standeren. F.eks. at kunne skjule ledningen bag TV'et langs standerens højre/venstra ben med en magnet. Ikke nok med der leveres en lille magnet der let monteres, så er der også en ekstra metaldimension i samme farve som resten af rammens skelet (Forest Green), der på magneten kan påsættes, sådan det hele harmonerer og ser æstetisk lækkert ud.
A-frame kan købes i 5 forskellige farver, modellen i dette indlæg er den farve som hedder "Forest Green". Det er en mørk grøn, der passer ind i de fleste danske hjem, da den ikke er dominerende på nogen måde, men tværtimod kan den sikre lidt spil i et ellers meget klassisk og perfekt hjem. Udover den grønne farve, er der også Dusty Rose, Snow, Mushroom og Charcoal.
Produktets dimensioner: 
H: 87 cm x B: 81 cm X D: 49 cm.
Understøtter: 40-70″
Kompatibel med: Samsung, LG, Philips , Sony, Prosonic etc.
Læs mere om produktet her.
Er produktet nemt at samle?
I pakken er der en brugbar og nem samlevejledning, der selv for den ikke trænede samle-selv-mester, kan komme i mål med dette produkt. Personligt er jeg ikke den store saml-selv-type, men lige netop dette produkt var supernemt. Det eneste man i princippet skal være opmærksom på, er at man får vendt benene rigtigt (udad), så man ligesom fornemmer at der dannes en fin ramme om TV'et. Dobbelttjek gerne om dette er gjort rigtigt, da det kan være irreterrende at have gjort dette forkert, men det er ganske overskueligt illustreret i vejledningen.
Spænd altid efter til sidst, sådan det hele sidder som det skal.
Værktøjet man skal bruge til at samle A-frame er naturligvis også med i pakken. Dog skal man bruge et tæppe eller lignende, som kan lægges under TV'et (skal lægge med skærm nedad) når rammen skal monteres bagpå TV'et. Brug gerne 2 minutter ekstra på at få målt ordentlig op hvordan TV'et skal hænge på din A-frame, sådan det ikke er nødvendigt at ommontere. Brug evt. toppen på TV'et som udgangspunkt for hvor højt/ lavt TV'et skal hænge.
I vores tilfælde har vi valgt at montere en Wood Top A-frame (se her) i Dark Ash ovenpå rammen, for at få en pæn afslutning. Denne har vi brugt som peglemærke til hvor højt TV'et skulle hænge – du kan gøre det samme.
Pris
Til en pris på 2.200 kr. føler vi man får et solidt produkt i nogle gode materialer, der selv kan få et "billigere" TV, ligesom vores udvalgte Samsung QLED 2021 model i indlægget her, til at se meget dyrere ud.
En rigtig god løsning, der kan give en wow-effekt, da det for mange stadigvæk er en ny og anderledes løsning til hvad man ellers ser i dag.
Anbefaling
Produktet får de varmeste anbefalinger fra os. Det er ikke kun æstetisk at den indfrier de forventninger vi har haft, men hele processen fra bestilling, til modtagelse, til samling er gået som smurt.
Vi handler gerne med Pedestal igen.
Billeder
---